This tutorial will show you how to reopen a closed window or tab in Mozilla Firefox.
If you want to reopen a closed window or tab in Mozilla Firefox, you can use the "firefox reopen closed window" command. The process is simple and easy.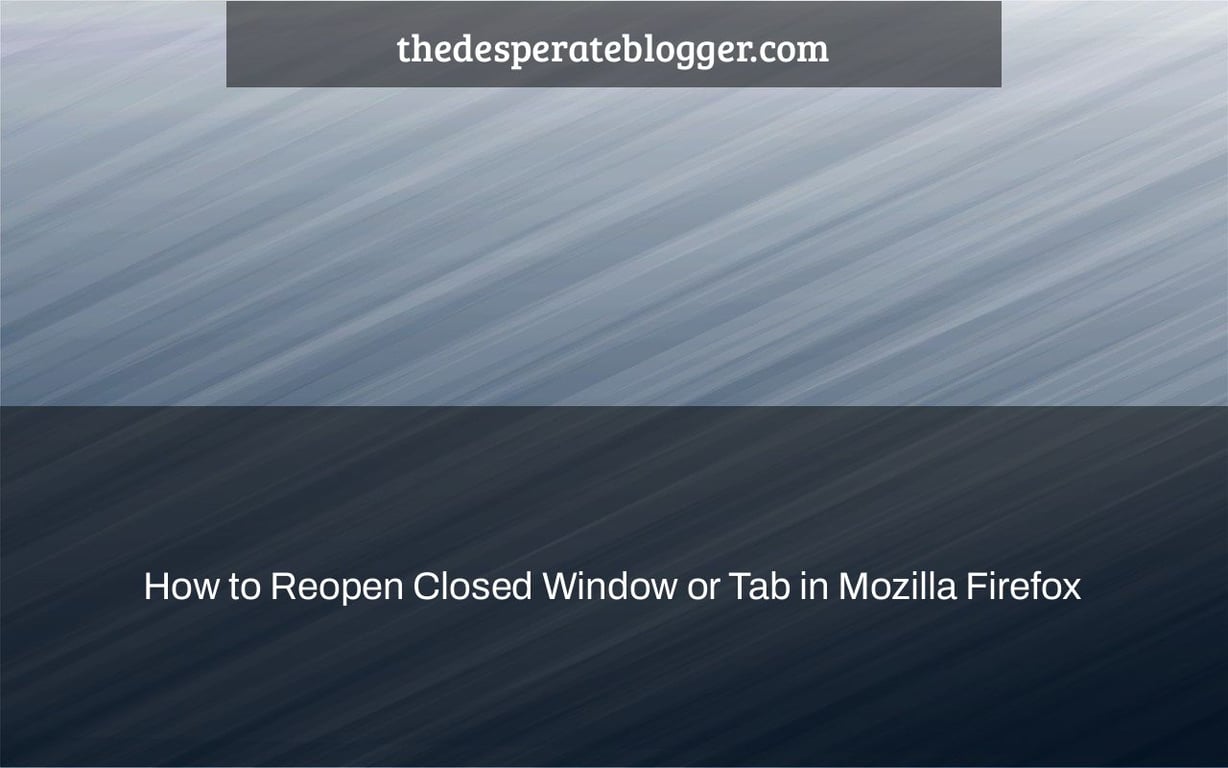 We tend to open a number of windows and/or tabs on the browser while we visit the web in current times. When we no longer required some of the open tabs or windows, we would shut them. There are occasions when we unintentionally shut a tab or a window with numerous tabs that we still need. In most circumstances, depending on the scenario, you can still retrieve the closed window or tab.
This tutorial will teach you how to reopen a Mozilla Firefox window or tab that has been closed. It will be based on Firefox on Windows 11, but the procedures should work in Firefox on other operating systems as well.
Reopen a Firefox tab that has been closed.
If you accidentally shut a tab while remaining in control of a Firefox window, you may instantly reopen it by right-clicking on any open tab or empty space in the tab area and selecting Reopen closed tab.
The context menu will be the same no matter which tab you right-click on, and the "reopen closed tab" choice will always reopen the last tab you closed in the current window.
To keep reopening tabs you've recently closed in the current window, click the "Reopen closed tab" option again.
Pro tip: Instead of right-clicking and selecting the option with your mouse, you may use the keyboard shortcut Ctrl + Shift + T to reopen a closed tab. When you need to reopen a lot of closed tabs, this keyboard shortcut may come in helpful.
A closed tab may be reopened if the window in which it was closed is still open. As a result, maintaining the window takes precedence.
When you begin Firefox, for example, if you have the "Open previous windows and tabs" option activated, Firefox will always reopen the previously closed window. You won't have to worry about missing out on the opportunity to reopen a closed tab if you can still reopen the window you've been using.
Go to the program menu and choose Settings if you want Firefox to reopen the last closed window everytime you start it. Enable the option that says Open previous windows and tabs under Startup.
Firefox may be used to reopen a previously closed window.
In Firefox, a recently closed window differs from a closed tab. Multiple tabs may be found in a single window. When you reopen a window, it will also reopen all of the tabs it had when it was closed.
Depending on how many additional windows you've closed after the one you wish to recover, you may be able to reopen the closed window in most circumstances if the number of windows you've closed in between isn't too large.
Open the open application menu (triple horizontal line in the upper right corner of Firefox's window), then pick History to reopen a recently closed window.
Select Recently closed windows from the drop-down menu.
You may then choose a recently closed window to reopen it from there. If you're not sure which window you want to reopen, you can also reopen all the previously closed windows by choosing "Reopen all windows" at the bottom of the list.
If the window you wish to reopen isn't mentioned, it's possible that it was closed too long ago or that you've closed too many windows in the meantime.
Instead than navigating through the menus and settings, use the keyboard shortcut Ctrl + Shift + N to rapidly reopen a closed window in Firefox. To reopen closed windows in the sequence they were closed, keep hitting the shortcut keys.
Description for sharing: A tutorial on how to use options or keyboard shortcuts to reopen a previously closed window or tab in Mozilla Firefox on Windows 11/10 or other operating systems.
Watch This Video-
The "firefox recently closed windows empty" is a problem that many people have encountered. Mozilla Firefox has released an article on how to reopen closed window or tab in Mozilla Firefox.
Frequently Asked Questions
How do I reopen a closed tab in Firefox?
A: To reopen a closed tab, click on the three horizontal lines in the top right-hand corner of your browser window. Then select History from the drop-down menu that appears.
How do I recover an accidentally closed window?
A: If you accidentally close a window, it may be possible to recover that window by hitting CTRL+ALT+ESC on your keyboard and then clicking the Troubleshoot problems with Windows option. This will open up an area where windows can be recovered from the past few days.
How do you bring back a closed tab?
A: You cant.
Related Tags
firefox restore previous session button missing
firefox reopen closed tab shortcut
restore previous session firefox manually
firefox restore previous session missing 2021
firefox restore previous session multiple windows